A platform lift includes mobility lifts but is a broader term that encompasses various types of lifts designed to either provide accessibility and transportation for individuals requiring mobility support or designed to transport goods. It refers to any lifting mechanism that includes a platform to elevate people or objects vertically or horizontally. Platform lifts can be installed in buildings, vehicles, or other settings to assist individuals with limited mobility in accessing different levels or areas.
A platform lift is designed to assist individuals accessing elevated areas. It consists of a sturdy platform that moves vertically between different levels, such as floors or stages, allowing people who use wheelchairs, scooters, pushchairs or other mobility aids to navigate barriers such as stairs or elevated platforms. Platform lifts are typically installed in buildings, both residential and commercial, as well as outdoor settings. They provide a safe and reliable means of vertical transportation of people and goods, promoting inclusivity and accessibility for individuals with mobility restrictions The lifts are equipped with safety features such as guardrails, non-slip surfaces, and emergency stop buttons to ensure the well-being of the users.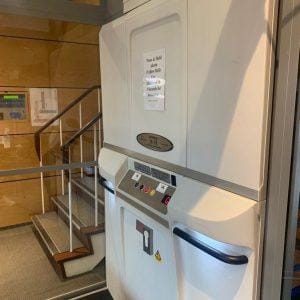 Benefits of Platform Lifts
Accessibility: One of the primary benefits of a platform lift is its ability to provide accessibility for individuals. It allows wheelchair users, pushchair users, people who have difficulty climbing stairs to navigate between different levels of a building easily and safely.
Independence: Platform lifts promote independence by enabling individuals who require mobile support, to access various areas without assistance. With a platform lift, individuals can navigate buildings, including homes, offices, or public spaces, on their own terms.
Safety: Platform lifts are designed with safety features to ensure the well-being of users. They typically include non-slip surfaces, safety barriers, handrails, and emergency stop buttons. These features provide a secure environment and reduce the risk of accidents or injuries.
Ease of Installation: Platform lifts are relatively easy to install and can be customised to fit specific spaces. They can be installed both indoors and outdoors, and they require minimal structural modifications to the existing building. This ease of installation makes them a convenient option for retrofitting buildings to improve accessibility. They are designed to tend to a travel further distance vs. mobility lifts.
Versatility: Platform lifts can accommodate different types of wheelchairs, scooters, pushchairs and mobility devices. They come in various sizes and weight capacities, allowing for flexibility in meeting the needs of different users. Some models can even be used to transport heavy objects or goods between floors.
Space Efficiency: Platform lifts have a compact design that requires minimal space compared to other accessibility options like ramps or elevators. This makes them suitable for buildings with limited space or areas where installing a traditional elevator is not feasible.
Cost-Effective: Platform lifts are generally more affordable than installing a full-scale lift. They offer a cost-effective solution for improving accessibility, especially in smaller buildings or homes where the installation of an elevator may not be financially viable.
Compliance with Accessibility Standards: Platform lifts are designed to meet various accessibility standards and regulations, ensuring that buildings are compliant with disability rights laws. By installing a platform lift, property owners can create an inclusive environment and cater to a wider range of individuals.
There are several types of platform lifts available, each designed to cater to specific needs and environments. Here are some common types:
Vertical Platform Lift (VPL): This type of lift consists of a platform that moves vertically, allowing users to overcome height differences. VPLs
are often installed in buildings and homes, both indoors and outdoors, to provide wheelchair accessibility to raised entrances, porches, stages, or different floor levels.
Inclined Platform Lift: Unlike vertical lifts, inclined platform lifts are designed for navigating inclined surfaces such as staircases. They feature a platform that moves along a rail system installed on the stairs, allowing individuals with mobility challenges to easily traverse the steps while seated in a wheelchair or scooter.
Portable Platform Lift: As the name suggests, these lifts are lightweight and easily transportable. They are designed to be temporary or mobile solutions, often used in events, temporary structures, or locations where permanent installations are not feasible. Portable platform lifts provide accessibility options in a variety of settings and can be set up and dismantled relatively quickly.
Enclosed Platform Lift: This type of lift is designed to provide both vertical and horizontal transportation. It features an enclosed cabin or structure that moves vertically and can also travel horizontally to reach different areas or rooms within a building. Enclosed platform lifts are commonly used in larger buildings or spaces where wheelchair accessibility is required between multiple floors.
Scissor Lift: Scissor lifts are versatile platforms that use a scissor-like mechanism to raise and lower the platform. While they are primarily used for lifting objects or workers in industries like construction or maintenance, some models are modified to accommodate wheelchair users. Scissor lifts can provide vertical access to elevated platforms or stages.
Pool Lift: Pool lifts are specialized platform lifts designed specifically for aquatic environments. They allow individuals with limited mobility to access swimming pools or spas safely. Pool lifts are typically corrosion-resistant and waterproof, and they can be operated manually or powered by batteries.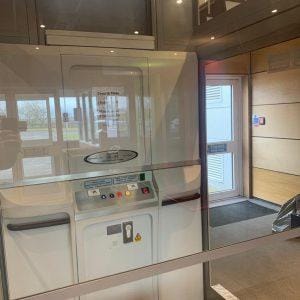 PUBLIC SECTOR
In the UK, public sector lifts are lift systems used in public sector buildings such as government buildings, hospitals, schools, and other public facilities. These lifts are subject to strict regulations and standards set by the British Standards Institution (BSI), and other regulatory bodies.
Public sector lifts in the UK are required to comply with the Equality Act 2010, which mandates that lifts be accessible to all, including people with mobility issues. Lifts must be designed and installed to enable access by persons with disabilities, and the controls, alarms, and signals must be designed and located to be accessible to everyone.
Types of Public Lifts we install, maintain & repair:
Passenger lifts
Glass & scenic lifts
Dumbwaiters
Platform lifts
Goods and services lifts
Large vehicle transportation lifts
Mobility Lifts
Escalators and Moving Walkways
REAL ESTATE SECTOR
Private sector lifts are elevators used in private buildings such as residential homes, private offices, and private facilities that are not open to the public. These lifts are designed to provide convenient and safe transportation between floors for individuals and their belongings.
Also known as Residential lifts or private sector lifts, real estate lifts can come in various designs, sizes, and functionalities, depending on the specific needs and preferences of the building owner or user. For example, a residential home may have a smaller lift that can accommodate a wheelchair or a few people, while a private office or facility may have a larger lift designed to move heavy equipment or large groups of people.
Private sector lifts may include various features such as voice-activated controls, customized finishes, and other personalized options to meet the specific needs and preferences of the owner or user. These lifts are typically installed by trained professionals and are subject to safety regulations and codes.
Types of Real Estate Lifts we install, maintain & repair:
Passenger lifts
Glass & scenic lifts
Dumbwaiters
Platform lifts
Goods and services lifts
Large vehicle transportation lifts
Dock leveller and scissor lifts
Ensure seamless and reliable elevator performance with
VM Elevators' comprehensive maintenance contracts.
Our experienced technicians will provide regular inspections and maintenance services to keep your elevators running smoothly, minimize downtime, and ensure the safety of your passengers. Invest in peace of mind and a hassle-free experience with VM Elevators.