WHAT ARE PASSENGER LIFTS?
Lifts, also known as elevators, have become an integral part of modern buildings, providing convenient and efficient vertical transportation for passengers. Passenger lifts, in particular, are designed to cater to the needs of individuals and small groups of people. Whether you are looking to install a lift in a commercial building, a residential tower, or a public space, there are a variety of options available to meet your specific requirements.
Components of Passenger Lifts
Passenger lifts are made up of several key components, including the cabin, control system, doors, hoisting mechanism, and power supply. Let's take a closer look at each of these components.
Cabin: The cabin is the main passenger compartment of the lift, where individuals enter and exit. It can be designed to meet specific requirements, such as wheelchair accessibility, and can be customized with various finishes and materials.
Control System: The control system manages the operation of the lift, ensuring that it moves safely and smoothly from one floor to another. It also provides important safety features, such as emergency stop buttons and alarm systems.
Doors: The doors of the lift provide access to the cabin, and are equipped with safety features such as automatic closing, edge protection, and interlocks to prevent the lift from moving if the doors are open.
Hoisting Mechanism: The hoisting mechanism is responsible for raising and lowering the lift, and typically consists of a traction or hydraulic drive system.
Power Supply: Passenger lifts require a reliable power supply to operate, and can be powered by either electrical or hydraulic systems.
There are several different types of passenger lifts available, each with its own unique features and benefits. Some of the most common types include:
Traction Lifts: Traction lifts use a mechanical drive system to raise and lower the lift and are typically the most common type of passenger lift. They are available in a range of sizes and capacities and are suitable for most buildings.
Hydraulic Lifts: Hydraulic lifts use a hydraulic drive system to raise and lower the lift and are often used in low-rise buildings where traction lifts are not feasible. They are relatively simple and reliable but can be slower and less efficient than traction lifts.
Machine-Room-Less Lifts: Machine-room-less lifts, also known as MRL lifts, are a type of traction lift that do not require a separate machine room. This makes them ideal for buildings with limited space, and they can also be more energy-efficient than traditional traction lifts.
Panoramic Lifts: Panoramic lifts are a type of passenger lift that feature floor-to-ceiling glass walls, providing a stunning view of the surrounding area. They are typically used in high-end residential and commercial buildings and can add a touch of luxury to any space.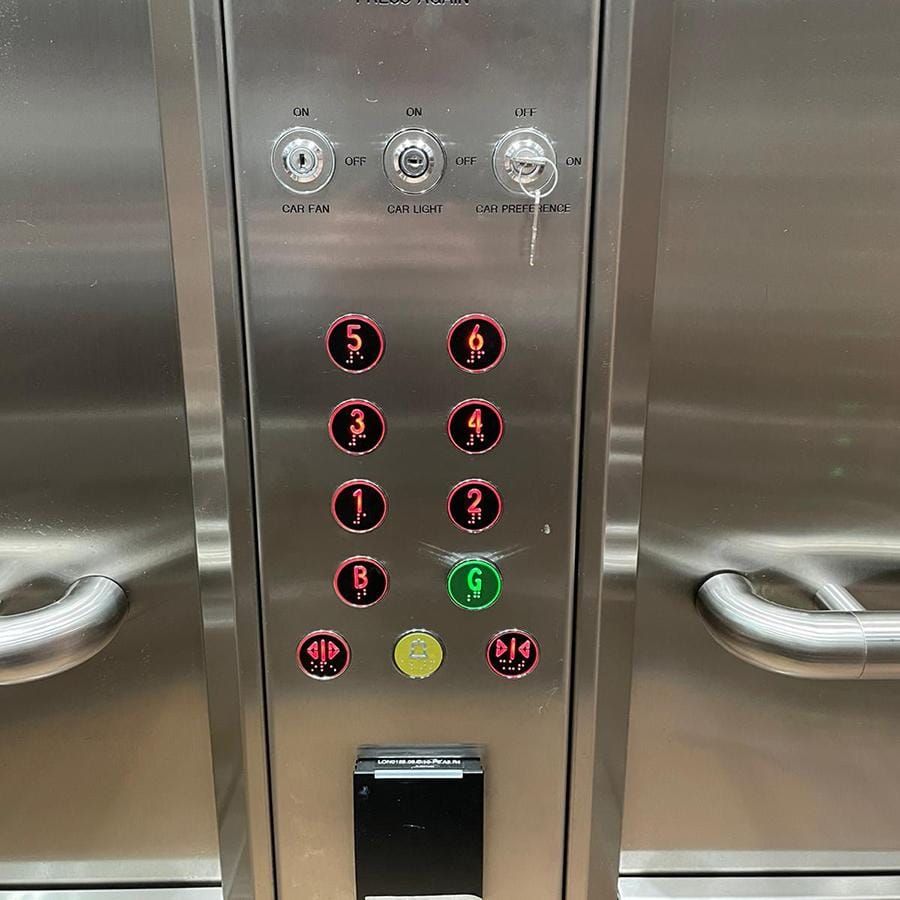 Safety Features of passenger lifts
Safety is a top priority when it comes to passenger lifts, and there are several key features that are designed to protect passengers and ensure smooth, safe operation. Some of the most important safety features include:
Emergency Stop Buttons: Emergency stop buttons allow passengers to quickly stop the lift in the event of an emergency and are typically located in the cabin and at the lift entrance.
Alarm Systems: Alarm systems are designed to alert emergency services in the event of an emergency and can be triggered by emergency stop buttons or other safety features.
Overload Detection: Overload detection systems are designed to prevent the lift from operating if it is carrying too much weight, helping to prevent accidents and equipment failure.
Emergency lighting:  These systems provide lighting in the event of a power outage, allowing passengers to safely exit the lift.
Doors Interlocks: Doors interlocks prevent the lift from moving if the doors are open, ensuring that passengers cannot be trapped in the lift.
Safety Cables: Safety cables are used to support the lift in the event of a hoisting mechanism failure and provide an additional layer of protection for passengers.
Choosing the right Passenger Lift
When choosing a passenger lift, there are several important factors to consider, including:
Building Type: The type of building you are installing the lift in will impact the type of lift that is best suited for your needs. For example, hydraulic lifts may be more suitable for low-rise buildings, while traction lifts are ideal for high-rise buildings.
Capacity: The capacity of the lift is an important factor, as it determines how many passengers can be transported at once. Lifts are available in a range of capacities, from small, single-person lifts to larger lifts that can accommodate multiple passengers and wheelchair users.
Speed: The speed of the lift is another important factor, as it determines how quickly passengers can be transported from one floor to another. Lifts are available in a range of speeds, from slow hydraulic lifts to high-speed traction lifts.
Accessibility: Accessibility is an important consideration for passenger lifts, and includes features such as wheelchair ramps and buttons at an accessible height.
Design: The design of the lift can also be a consideration, as it can be customized to match the aesthetic of the building and can include features such as floor-to-ceiling glass walls and custom finishes.
PUBLIC SECTOR
In the UK, public sector lifts are lift systems used in public sector buildings such as government buildings, hospitals, schools, and other public facilities. These lifts are subject to strict regulations and standards set by the British Standards Institution (BSI), and other regulatory bodies.
Public sector lifts in the UK are required to comply with the Equality Act 2010, which mandates that lifts be accessible to all, including people with mobility issues. Lifts must be designed and installed to enable access by persons with disabilities, and the controls, alarms, and signals must be designed and located to be accessible to everyone.
Types of Public Lifts we install, maintain & repair:
Passenger lifts
Glass & scenic lifts
Dumbwaiters
Platform lifts
Goods and services lifts
Large vehicle transportation lifts
Mobility Lifts
Escalators and Moving Walkways
REAL ESTATE SECTOR
Private sector lifts are elevators used in private buildings such as residential homes, private offices, and private facilities that are not open to the public. These lifts are designed to provide convenient and safe transportation between floors for individuals and their belongings.
Also known as Residential lifts or private sector lifts, real estate lifts can come in various designs, sizes, and functionalities, depending on the specific needs and preferences of the building owner or user. For example, a residential home may have a smaller lift that can accommodate a wheelchair or a few people, while a private office or facility may have a larger lift designed to move heavy equipment or large groups of people.
Private sector lifts may include various features such as voice-activated controls, customized finishes, and other personalized options to meet the specific needs and preferences of the owner or user. These lifts are typically installed by trained professionals and are subject to safety regulations and codes.
Types of Real Estate Lifts we install, maintain & repair:
Passenger lifts
Glass & scenic lifts
Dumbwaiters
Platform lifts
Goods and services lifts
Large vehicle transportation lifts
Dock leveller and scissor lifts
Ensure seamless and reliable elevator performance with
VM Elevators' comprehensive maintenance contracts.
Our experienced technicians will provide regular inspections and maintenance services to keep your elevators running smoothly, minimize downtime, and ensure the safety of your passengers. Invest in peace of mind and a hassle-free experience with VM Elevators.